Why TEREM?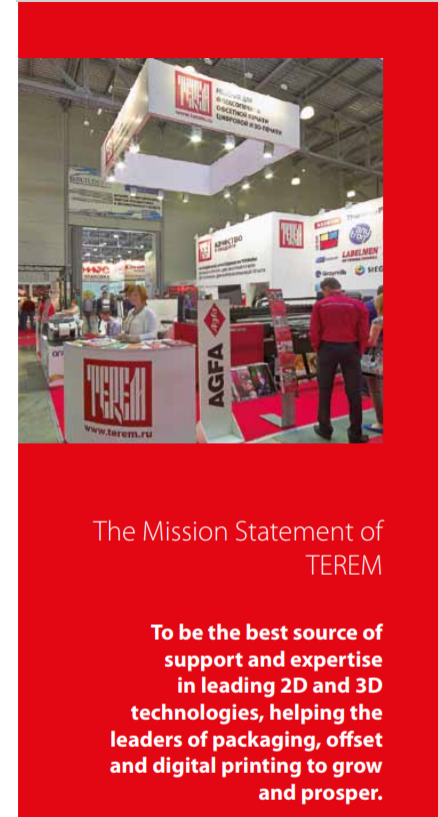 Distributor of printing and packaging solutions in the Russian market. TEREM is a privately owned company founded in 1993. From the very beginning TEREM has experienced continuous growth. The company plays leading role in developing and implementing innovative printing solutions in Russia, such as one of the frst desktop publishing system, the very frst computer-to-plate system, the very frst managament information system and even recently launched the very frst chemistry-free system. The secret of our success? Firstly, we always get us abreast of every latest technology innovations in the printing industry. Secondly, we could easily speak customer's language since our team consists of intelligent professionals with many years of experience in ofset and packaging industry. That's why we clearly understand every need of Russian printers so they keep their doors opened for us. If you are considering to start or expand your business in Russia, Terem company is the right partner for you.
Your Trusted Partner in Russia
TEREM is the leading distributor of printing solutions and materials in Russian Federation
Sales, system integration and support of prepress, ofset, fexo and digital products since 1993

One of the biggest distributors of consumables in Russia

Service and maintenance of equipment

Financing and leasing services for clients

Excellent credit history with Russian, foreign banks and insurance companies

Private, self-funded company

Mature corporate structure and executive management

Key Facts
25 years in business
Over 1000 active repeat-business customers

300 flexo customers, 700 offset/web customers

270+ flexo-press installations: #1 in Russia

Strategic partnerships with manufacturers around the world

#1 long-term AGFA distributor in Russia

t 8,600 sq.m. logistical center

Benefts for Manufacturers and Vendors
Experienced team with over 20 years experience of representing in Russia the best manufacturers from around the world
Nationwide coverage of the Russian market

Advanced logistical services for vendors from EU, Americas and Asia and for clients located in all regions of Russia

t State-of-the-art Enterprise Resource Planning (ERP) system

Advanced 8,600 sq.m. Moscow-based logistical center

Service department — on-site and remote localized product support

Equipment leasing and fnancing services ofered to customers in partnership with leading local banks

Key Milestones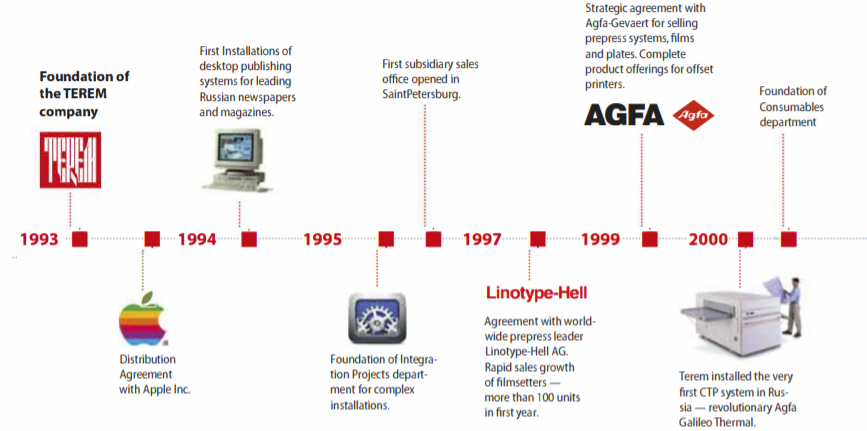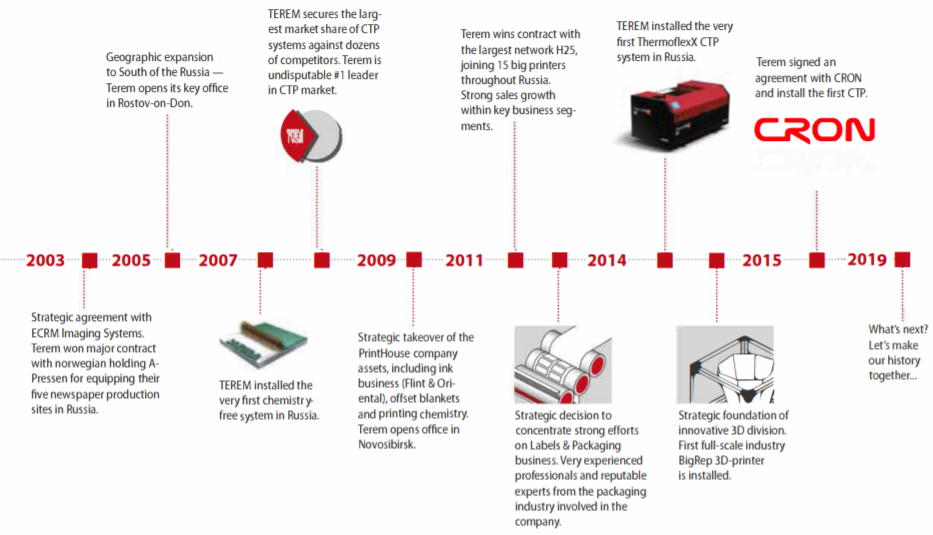 Customers Speaking
Oleg Salapaev
Syntez (packaging printer)
Our printing site produces packaging and labels for one of the largest pharmaceutical company in Russia. We know TEREM for a long time as one of the advanced and respectable supplier on the printing market, with excellent reputation and experienced professionals. Last year they installed us new flexo CTP Xeikon ThermoflexX. It has highest quality of output, great capabilities and problem-free in use. We are quite happy with the support and all the efforts that TEREM makes to implement new system.
Evgeny Maksimenko
Podolsk Commercial Printer
Many years ago we considered to purchase our first platesetter system. We carefully examined the market and decided to stay with Agfa systems which was installed by TEREM. Since then we are on friendly terms and our business is growing. Recently, we have installed our second system for commercial printing. As for our newspaper production, TEREM installed ECRM platesetters, two in Volokolamsk and another one in Stupino. In fact, we are quite impressed of TEREM ability to satisfy and help to solve our technological or financial questions.
Alexey Kharkevich
Streletc (flexo and screen printer)
Our company is a leader in flexo and screen printing in Russia, so we interested not just in high quality equipment, but also in reli-able partner. It all started with investing in new screen printing machine from Labelmen several years ago. We have made a good choice, it completely satisfied our requirements and provided good quality printing for our customers. Thanks to our partner-ship with TEREM and our good experience, last year we installed cut-sheeting machine from the same manufacturer. TEREM has experienced specialists which quickly and competently solve all questions.
Alexander Makarovsky
Favorit (narrow web label printer).
We have been working with TEREM since 2008 and we always come to terms.This is a team of real professionals in their business with a deep knowledge of flexographic printing. Making decision for new printing press is not easy, but TEREM gave us answers for all important questions, from the consultancy and financing till service maintenance. Undoubtedly this is reliable company that always make us feel great.